1. How it works (August 2021)
Statewide Online is a trial of online courses available statewide provided by U3As of South Australia. The diagram below outlines the current plan which is being developed from July-September 2021, launching in October. The trial is currently planned to operate Oct to mid 2022.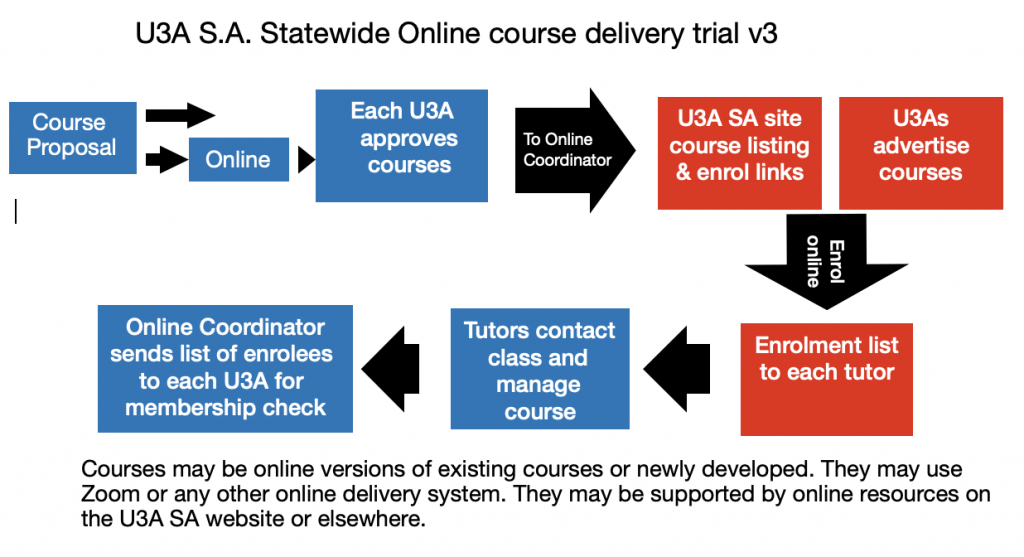 The process
(The process is being updated regularly as as feedback is received: latest Aug 19) The sign [?] indicates items that particularly invite comment.
The earlier notion of using Google Sheets to manage the online system has been greatly improved by the adoption of AirTable, a much more sophisticated online data-base.
Each U3A's Contact person and the Online Coordinator liaise to monitor the process.
Courses are approved by individual U3As for online statewide delivery. The online course proposal system is now so simple that it is suggested that in most cases U3A will opt to use this method of entering a course into the system. The U3A contact person will be automatically notified when new proposal is entered and then mange approval, negotiation with the tutor.
A list of all courses is recorded in Airtable s with Contact people having access to update this list as required.
This site (see menu item above) provided links to the sections of AirTable – Courses, Enrolment, Tutor Profiles, Calendar and Course Proposal.
Courses can be scheduled at any time. There is some advantage in starting courses to take advantage of U3A newsletters but this is not essential because newsletters follow different timelines [?]
Promotion of Statewide Online by individual U3As will be crucial to its success.
2. AirTable
Display The Display pages give detailed information about courses as soon as they are approved, and similarly profiles of each tutor.
Forms Collects enrolment and course proposals information and adds it directly to the data-base, avoiding copying and potential errors.
Sharing Tutors will be given a link to a page that records enrolments in their current course. They will have immediate contact with enrolled members. Similarly U3A contact people will have private online access to the state of play of courses, showing courses that are active, proposed, inactive, etc. Everyone will be able to see the calendar of upcoming courses.