Find your local U3A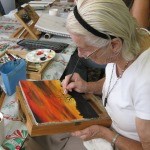 It's easy to find a U3A in your local area. Just enter your postcode in the search box below and you'll be directed to U3As within the desired radius of your location. Some U3A South Australia member organisations have their own website, links to which can be found on the Resources page. Explore and enjoy!
Become a volunteer
Volunteering with U3A in South Australia is a wonderful opportunity to maintain and/or develop your existing skills, while making an important contribution to your community. By sharing your particular area of expertise, it will allow others to benefit from your experience and assist in enabling all participants to have fun and to stay mentally and socially active. Your involvement will contribute to your own well-being and the growth and development of the U3A movement in South Australia. At the same time you will meet new people and make new friends.
If you would like to discuss current volunteering vacancies, or how your skills may be utilised to create a new position, please contact us.
Start your own U3A
Starting and running a U3A in South Australia is rewarding experience both personally and for your community. Begin by contacting U3A South Australia, they can supply information, advice and ongoing support. You will also find useful tips about starting a U3A in our fact sheet and seeding money may be available to cover initial expenses. A critical step to establishing a thriving U3A is to learn about the organisation. Familiarise yourself with the material available on this website and research the network here in South Australia and nationally. A public meeting is usually held in the early stages of establishing a U3A to gauge community interest and willingness to be involved in the project. A representative from U3A South Australia can attend to provide support, guidance and help launch the project. Publicity at this stage is vital to ensure awareness and participation. Once key positions such as president, secretary, treasurer and committee members are filled you are well on your way to starting a successful U3A. Remember that the staff of U3A South Australia are always available to provide assistance.  
Find your local U3A