What is U3A?
U3A is an international volunteer organisation providing educational, creative and leisure opportunities in a friendly environment for people over 50 who are no longer in full-time employment.
U3A is run entirely by volunteers and draws on the knowledge, experience and skills of its members to learn from each other and share experiences in a relaxed, social environment.
U3A South Australia
U3A South Australia was formed in 2006 and is the peak body representing 17 U3A member organisations across the State in metropolitan or regional locations.
Each U3A in South Australia is independent and run by an elected management committee of members. Everyone is encouraged to contribute voluntarily to the running of their local U3A to ensure it is an active and vibrant organisation.
Courses may last for an hour or a year and, for a small annual fee, members may enrol for as many courses as they wish. An additional fee may apply for some courses. There is no accreditation, assessment or qualification to be gained.
U3A South Australia believes learning is a pleasurable experience which provides opportunities to mix with like-minded people who enjoy doing new things. U3A South Australia can provide information, support and advice for those interested in  starting their own U3A.
To find a U3A near you, simply enter your postcode in our location finder.
Our vision and mission
U3A South Australia believes that staying active: mentally, physically and socially provides better health outcomes for people in active retirement.
Our Member organisations are volunteer not-for-profit organisations which provide affordable learning and leisure opportunities for retired or semi-retired people over 50 years (who are not working more than 20 hours a week) in an inclusive, fun and friendly atmosphere. We encourage people in our community to come together to learn from one another and pass on skills to others.
Our objectives are:
To explain the U3A South Australia movement to the public and to assist those who wish to form a U3A in their area.
To act as advocate/negotiator with governments, education bodies and private enterprise.
To make submissions for financial and/or other assistance.
To arrange seminars, conferences and/or meetings of U3As in South Australia on relevant matters.
FAQS
See answers to the following frequently asked questions.
What are the costs of a U3A course?
What qualifications do I need to join a U3A?
What does U3A mean?
If you have further questions or need additional information, please contact us.
Meet our team
KERRIE SMITH   –    President & U3A Campbelltown Delegate
MARJOLIJN HARAGHEY   –   Vice-President & U3A Adelaide Hills Delegate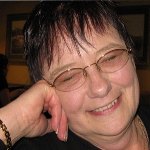 PAULINE McCREERY – Webmaster & U3A Adelaide delegate
Since retiring at the beginning of 2009 I have been busier than ever before. I can devote more time to image based computing, to travel, to learning croquet, to learning French, to……….you name it! I love theatre, reading, good food and wine and being a grandmother. I became, and continue to be, the webmaster for U3A Adelaide as well as serving on both the Programme and the General Committees. From March 2011 – March 2013 I was President of U3A Adelaide. It is wonderful to be able to continue with my love of both learning and teaching.
CLAIRE EGLINTON – Secretary & U3A Lower North Delegate/President
PETER ADAMS – Treasurer & U3A Gawler Delegate
Following retirement, I became active with casual bookkeeping work and was made aware of U3A through a desire to learn to play the ukulele and was put in contact with the Gawler Branch. Although my efforts to learn were thwarted by a number of personal problems, my direction was turned towards U3A South Australia and I was duly elected to the role of Treasurer. I enjoy the interaction with my fellow committee members and making contact with the individual Branches and learning how things are done.
Leisure pursuits include a love of travel, particularly cruising, and an appreciation of most genres of music, good food and wines, family time with children and grandchildren as well as curling up with a good book from time to time.