We would all be aware of relatively recent investigations into nursing homes and the way in which they are run and how their residents are treated.
Unfortunately the abuse of some of our older citizens is not confined to nursing homes and probably more frequently occurs far closer to the victim's own homes.  The South Australian Government is running a campaign to highlight the need to report and recognise this abuse.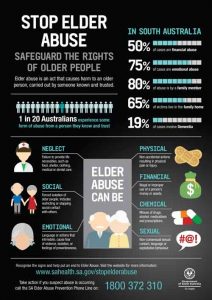 Please use the SA Elder Abuse Prevention Phone Line 1800 372 310 for support and/or information.
Should you wish to help promote the campaign, there are a variety of materials that can be obtained via their website www.sahealth.sa.gov.au/stopelderabuse
Remember, in a similar way to reporting Child Abuse, you do not have to have proof to contact the hotline – merely a suspicion.