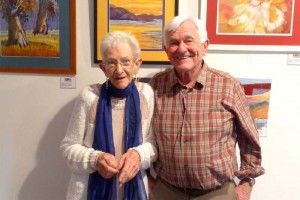 Riverland's Art Exhibiton, held at the Chaffey Theatre, was part of the COTA SA Every Generation Festival.  The 17 strong group proved there is no glass ceiling when it comes to learning something new, irrespective of age.
Two of the group's oldest members, Sarah Summersett of Berri and Brian Dalzell of Loxton, are wonderful examples of the adage that – staying active: mentally, physically and socially, is essential to healthy aging.
Here Sarah and Brian are standing in front of works created by Sarah.